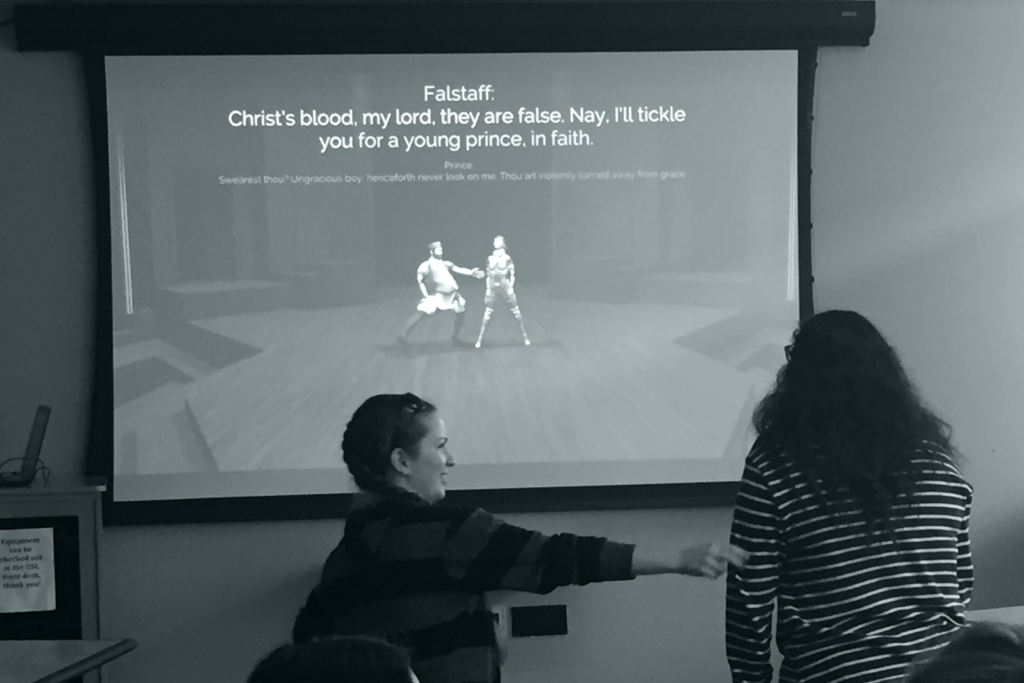 We asked several 2017–18 grantees to share their experience with UCHRI grant programs—what stood out to them, what they might do differently, and what advice they had for those interested in the grant. Here are their responses. Interested in applying? See our grants page for more information. 
Gina Bloom, UC Davis | Digital Humanities Grant, Play the Knave
What appealed to you about the digital humanities grant and why did you apply?
I appreciated the flexibility of the grant—that it could be used to help us both develop our digital project and also to distribute and study it via installations. It was also a pleasure to have a chance to collaborate with faculty at other UCs to bring the game to students at their institutions. 
Can you discuss the process of planning and implementing the grant?
I approached two faculty members I knew from professional circles and asked whether they might like to collaborate on bringing Play the Knave to their campuses. Both were enthusiastic and swiftly secured funds from their own institutions to offset the costs. This was very useful because we wanted to use most of the grant to pay graduate students to complete the programming tasks necessary for the project to get finished and, thus, for the installations to work. The "buy-in" from other institutions was valuable on other ways, too. Because collaborators could make the event their own, the installations were better able to serve each institution's needs/student populations. Implementing this part of the grant involved lots of emails about logistics as well as some higher level "visioning" about who we wanted to reach, what would be most useful to the project, and how best to do that. My collaborators were fantastic partners at every stage!
From the initial planning phase through the end of the grant period, what stands out to you as the most beneficial element?
Two highlights: One, we made tremendous progress on the development of the platform and launched a campaign to have the game "green-lighted" on Steam, a well-established software-distribution site that distributes projects only after they received votes of confidence from the site's community. We achieved green-lighting in June, at the end of the grant period and right before Steam pulled this program—so we are especially pleased by the grant's timing.   Two, my research on the game was advanced significantly. Perhaps most useful was a pedagogy workshop that I participated in along with one of my collaborators, Katherine Brokaw (UC Merced) at University of the Pacific. The workshop was so informative that it is at the center of a paper I will be sharing with a research group at a theater conference this fall and delivering as a keynote lecture in Australia in February. The installation at Merced itself was very useful, as Brokaw's students provided useful feedback. At Irvine, Julia Lupton organized a roundtable presentation in which I presented my game alongside other Irvine faculty working on educational or arts games—this was very productive for my thinking about the project and helped to draw a huge crowd to the installation itself. 
Julia Lupton and Amanda Swain, UC Irvine | Humanities Center Grant, Speaking of the Humanities: Communications Development for UC Humanities Center
Can you discuss the process of planning and implementing the grant?
We wanted to increase the capacity of humanities centers to communicate the work that humanities centers, faculty, and graduate students do.  How can we make humanities research more visible? What tools can we use to develop a communications plan?  Who are our audiences? How do we select the best medium to reach each audience?
First, we had to find a communications trainer who could really meet us where we are as academic organizations and who had a familiarity with the humanities terrain.  We wanted someone to help us evaluate our current communications tools and habits and help us become more effective. Fortunately, UCLA's Center for Digital Humanities had worked with Barbara Osborn and highly recommended her.  Barbara has extensive experience doing capacity-building work with nonprofits and educational institutions. She also has a PhD in Communications and teaches at USC, so she understands how to engage faculty and our own institutions in communications practices.
From the initial planning phase through the end of the grant period, what stands out to you as the most beneficial element? 
Each center worked with Barbara individually by phone to discuss the ecology of their organization and identify a meaningful communications project. When we came together as a group, we were already on our way to accomplishing something substantive for the year while also building new skills through the two-day workshop.
How did you incorporate grad students into your project and what did they contribute to the grant?
As the lead humanities center for the project, we hired a graduate student to help organize the workshops and develop our communications project.  Ryan Gurney, a Visual Studies PhD candidate who has real aptitude and interest for this kind of work, contributed greatly. Each of the participating UC humanities centers also received funding to include a graduate student in their communications project.  The graduate students attended the two-day communications workshop as part of the campus team and worked with humanities center faculty and staff to develop and implement a communications project to meet the specific needs of their center.
What advice would you have for people who wanted to implement a similar program?
Communications are for everyone! Whether you run a humanities center or are a faculty member or graduate student involved in research that you want to share with others, having a clear picture of the communications tools and strategies available to you and making smart decisions about which ones to use will save you time and enhance your work. In the end, it's about intentionality and mindfulness (why are you doing what you're doing?), coupled with some basic planning skills.
Jessica Perea, UC Davis | Junior Faculty Manuscript Workshop, Sound Relations: Frontiers of Indigenous Modernity and American Music in Alaska
What appealed to you about the junior faculty manuscript grant and why did you apply? 
For me, the junior faculty manuscript grant presented a unique opportunity and vital resources to invite senior scholars to engage with my work-in-progress manuscript. I also found the emphasis on inviting faculty from other UC campuses appealing, as it could help me expand my network of colleagues in the system.
Can you discuss the process of planning and implementing the grant?
At the time of the grant, my book manuscript was at a developmental stage. My primary goal for the workshop was to gain insight from my expert readers on which chapters were most compelling as a book project and which chapters could be set aside as journal articles. Once I confirmed travel itineraries for each of the expert readers, I began researching manuscript workshop agendas to find a work flow that I felt would best suit the material I hoped to get through. In retrospect, I am especially thankful that I budgeted time and funds to host a welcome dinner the evening prior to the workshop, because it turned out that none of the scholars had met each other in person! So rather than starting cold, the welcome dinner helped to break a little ice between participants.
From the initial planning phase through the end of the grant period, what stands out to you as the most beneficial element?
I felt that the most beneficial element of the grant was definitely the workshop itself. I chose to bring together an interdisciplinary group of five senior scholars whose work deeply influenced my own. Once I realized that these scholars were meeting for the first time at this workshop, I gained a greater appreciation for the individual perspectives they each brought to the table which, in the process, allowed me to mentally transition from the standpoint of participating in a seminar to conducting a workshop with senior colleagues.
What do you wish you had known before starting the grant, and is there anything you would have done differently?
One thing I would have done differently would have been to ask a graduate student to attend the workshop to take notes. I found out after the fact that this is a common practice at other manuscript workshops, and although I did audio record the sessions and took my own notes, I can imagine that additional notes from a grad student who works with me would have been that much more helpful.
What advice do you have for applicants and recipients of the junior faculty manuscript grant?
Take your time narrowing down your list of 4-6 expert readers. Ask around to find out which scholars have a reputation for critical and constructive feedback. It is very important that an event like this does not revert to a dissertation defense—the manuscript workshop requires a different kind of buy-in from all involved. Also, ask around for different workshop agenda ideas and choose a flow that works best for the time you have and personalities convened!
Juan Camilo Gomez-Rivas, UC Santa Cruz | Faculty Working Group, The Maghrib Workshop: Law and Movement: Historical Roots and Contexts, Contemporary Questions
What appealed to you about the faculty working group grant and why did you apply? 
It appealed to me as a relatively simple grant application for a reasonable amount of funds to pursue the project I had in mind, which was to create a network of scholars working on North Africa in California and the West Coast. It was a way for me to get to know them and interact with them in a meaningful way. As I realized how rich the network was and had a few preliminary conversations about trying to bring us together, we all got excited about the potential. 
Can you discuss the process of planning and implementing the grant?
I arrived in California in 2014. I attended two conferences funded by UCHRI at UC campuses during my first year. There were a couple of scholars of North Africa in attendance, and I started an informal conversation with them about the need, desirability, and possibility of bringing scholars of North Africa together in a meaningful way. I assembled a list, created an email list, and wrote group and individual messages inviting an interdisciplinary group. I formulated the proposal with a theme that speaks clearly to my own project but was flexible enough to bring others under the same umbrella. Then I met with our IHR office and meticulously planned the events. They were instrumental in the smooth running of the event.
From the initial planning phase through the end of the grant period, what stands out to you as the most beneficial element?
This project was developed around holding two meetings in which we workshopped four pre-circulated papers per meeting. Meetings were most certainly the highlight. It's very rare to have six to eight hours of concentrated conversation and highest-quality feedback on the subject of your research. Outside of the meeting time, it was mostly preparation. 
What do you wish you had known before starting the grant, and is there anything you would have done differently?
Not really. I was a bit slow in wrapping up post-meeting reports, but the year was extraordinarily busy. I'm not sure how I could have stream-lined the process better. 
What advice do you have for applicants and recipients of the faculty working group grant?
To communicate clear expectations of what kind of participation and collaboration you expect from the members of the group. And to make these expectations realistic given members' work demands.