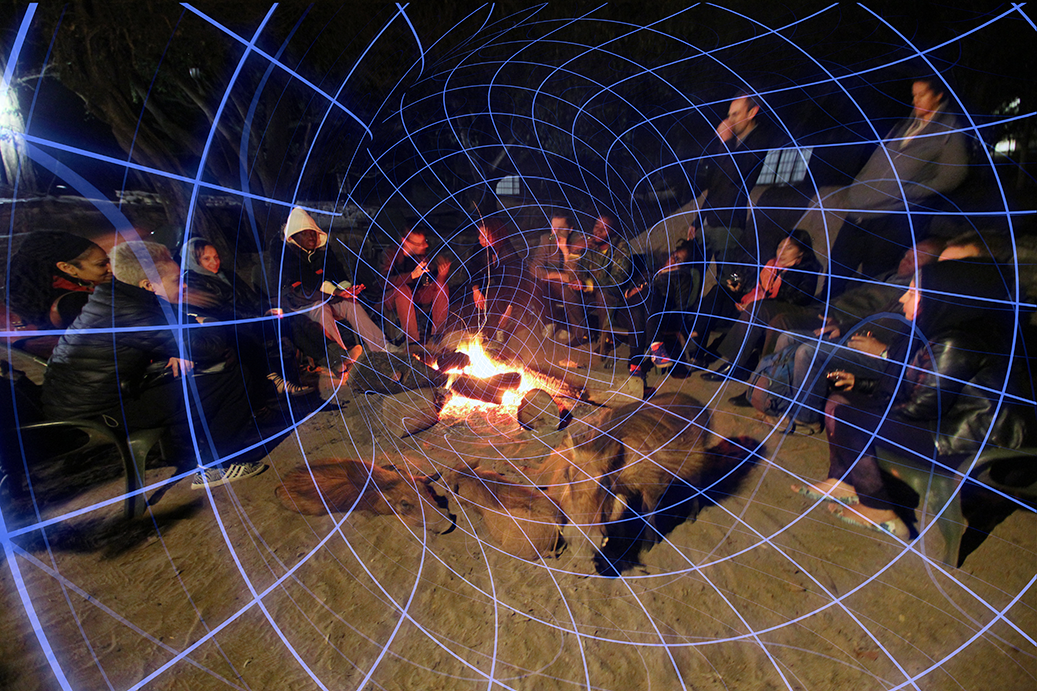 The three-year initiative will examine implications for the humanities as distinctions between animals, humans, and technology are increasingly blurred. 
| | |
| --- | --- |
| | Press Release |
The University of California, Irvine has been awarded a $1.5 million grant from the Andrew W. Mellon Foundation for a 3.5-year UC Humanities Research Institute (UCHRI) initiative, Infrastructure and its Inquiries: Horizons of the Humanities.
"We are thrilled to be supported by the Mellon Foundation on this ambitious program," states UCHRI director David Theo Goldberg. "Horizons of the Humanities will engage faculty and graduate students throughout the UC system, nationally, and globally in an innovative series of projects and partnerships that will apply experimental humanistic inquiry to a range of contemporary topics. Hats off to the Mellon Foundation for continuing to support innovation in the humanities."
Horizons of the Humanities seeks to analyze changes in technology, society, and higher education in a way that challenges traditional humanistic inquiry. "Traditionally, humanists have used a (self-)critical lens to comprehend and evaluate artifacts of human expression," maintains Goldberg. "Today, however, lines are blurred between humans and technology, between knowledge and data production, and between discrete disciplines and methodologies."
To analyze these changes, humanities faculty and graduate students throughout the University of California will partner with media and technology professionals, prominent national and international scholars, and other key stakeholders to experiment with the following four interrelated themes:
Techno-Humanities: Life at the Interface. An examination of the ways in which digital technology, including algorithmic logic, is contesting our understanding of what makes us human and how humanity itself embodies disparate forms across public, private, and digital interfaces.
On Social Heterogeneity. An inquiry into the challenges and opportunities of supercharged ethnoracial, cultural, religious, and political heterogeneities as a result of hyper-mobilities, and the pressing consequences raised for sociality, democracy, political engagement, and knowledge production.
The University and its Futures. A call to consider and advance the role of postsecondary humanistic learning in the face of these socio-technological changes, with the recognition that these developments cannot be addressed through one single knowledge discipline (however broadly defined).
Research Infrastructure for the Humanities. An analysis of the manner in which interdisciplinary humanities centers can foster the type of innovative, experimental research necessary to address these kinds of challenges, and the infrastructure required to do so.
In addition to evaluating these key themes, the initiative features exploratory research models that aim to cultivate collaboration within and outside the humanities conventionally defined. These models support in-person and digital engagement and include humanities studios, research residencies, mobile researcher networking events and graduate student seminars, non-traditional postdoctoral fellows, and a variety of public engagements and partnerships. "In many ways, the interdisciplinary research models we are developing are as critical to Horizons of the Humanities as the themes they investigate," notes UCHRI assistant director Kelly Brown. "Both reflect the initiative's eye toward the experimentation and innovation necessary to conduct contemporary humanities research."      
Media Contact
Beth Greene, (949) 824-4858, bgreene@hri.uci.edu
About the University of California Humanities Research Institute
Based at the University of California, Irvine, UCHRI supports innovative, collaborative, interdisciplinary research and pedagogy across the University of California system and within the larger communities these campuses inhabit. UCHRI bridges gaps between disciplines across the humanities and human sciences and seeks to overcome the intellectual and institutional barriers that can separate the humanities from other fields. Recognized nationally and internationally for its leadership, UCHRI also directs its own robust initiatives, which aim to critically evaluate pressing issues for the future of higher education and the humanities.
About the Andrew W. Mellon Foundation
The Andrew W. Mellon Foundation endeavors to strengthen, promote, and, where necessary, defend the contributions of the humanities and the arts to human flourishing and to the well-being of diverse and democratic societies. To this end, it supports exemplary institutions of higher education and culture as they renew and provide access to an invaluable heritage of ambitious, path-breaking work. Additional information is available at mellon.org.