The University of California Humanities Research Institute (UCHRI) invites proposals for its Humanists@Work graduate student advisory committee.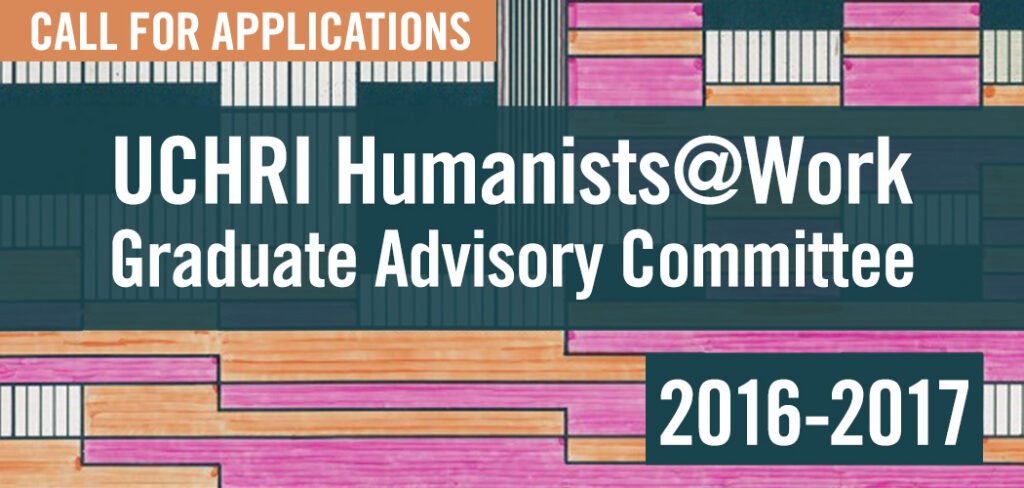 Who Can Apply: Currently enrolled UC Humanities graduate students.
Level of Award: $1,000 stipend, plus travel and lodging for twice-yearly professional development workshops and a convening meeting at UCHRI.
Funding Source: UCHRI
New Extended Deadline: May 16, 2016 (11:59 pm PST). Apply online via FastApps (opens on January 4, 2016).
Funding Decision: It is expected that awards will be announced in late Spring quarter. Final awards are contingent upon available funding. Term of participation is May/June 2016-May/June 2017.
Program Overview
UCHRI is pleased to invite proposals from humanities graduate students interested in participating in the UC-wide initiative supporting career regarding careers alongside/outside the academy. As part of the MLA-funded "Connected Academics: Preparing Doctoral Students of Language and Literature for a Variety of Careers," we are seeking 3-5 humanities graduate students to serve as the Humanists@Work advisory committee for our annual workshop series.
Building upon successful career workshops held in Berkeley (Spring 2014) and San Diego (Winter 2015), UCHRI is developing and coordinating two workshops a year in 2015-16, 2016-17, and 2017-18 to rotate among Northern, Central, and Southern California locations to support career preparation for interested graduate students.
The term for the advisory committee is one year, beginning in Summer 2016 through Spring 2017. Working alongside UCHRI's Assistant Director, advisory committee members will be expected to attend both workshops and participate in virtual meetings, including the collective development and production of 2-4 webinars on alt-ac topics each year.
This is an opportunity for graduate students interested in shaping the conversations and work of professional development opportunities for humanities graduate students across the UC system while gaining valuable programmatic and logistical work experience.
For more information about the initiative, please visit Humanists@Work. We strongly urge interested candidates to familiarize themselves with the blog posts contributed by past Humwork advisory committee members.
Project Description
Advisory committee members will be asked to collaborate on a variety of activities, including:
Workshops
Develop, plan, and execute two workshops a year. Work with UCHRI's AD on workshop topics, speaker selection, graduate student fellowships, catering, etc.
Attend both workshops, providing on-the-ground logistical support and post-event support and reflection
Website
Assist with the development and maintenance of a UC-wide Humanists@Work website
Identify important topics and resources
Contribute to website with two blog posts/quarter, with additional opportunities to publish on related topics through UCHRI imprint.
Help publicize the website and connect to other resources
Webinars
Develop topics and select participants and presenters for webinars
Co-facilitate 1 webinar/year
Meetings and Other Events
Attend introductory meeting at UCHRI and meet regularly via Google Hangout
Stay up-to-date and contribute to Humanists@Work resource list
Funding
Each advisory committee member will receive a $1,000 stipend for their year-long participation. Additionally, UCHRI will cover all travel and lodging expenses for students to attend two workshops/year and an introductory meeting at UCHRI in Fall 2016.
How to Apply
Applications from prospective organizers are accepted exclusively online via UCHRI's FastApps system.
Required documents include:
Cover Letter
Resume
Recommendation letter from faculty member or campus administrator. As part of this letter of recommendation, the recommender should also verify your enrollment in good standing in a humanities or humanistic social sciences department at a UC. Applicants will provide the email address of the referee who will be automatically prompted to submit their letters online. The letter of reference must be submitted online by the recommender no later than May 20, 2016.
For program related questions, please contact Suedine Nakano, Program Officer, at snakano@hri.uci.edu
For technical assistance with FastApps, contact techsupport@hri.uci.edu.
Please include the name of the program for which you need assistance.