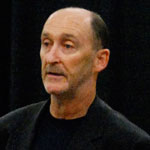 Director, University of California Humanities Research Institute
David Theo Goldberg, Ph.D., is the Director of the University of California Humanities Research Institute, the University of California system-wide research facility for the human sciences and theoretical research in the arts. He also holds faculty appointments as Professor of Comparative Literature, Anthropology, and Criminology, Law and Society at UC Irvine, and is a Fellow of the UCI Critical Theory Institute.
Professor Goldberg's work ranges over issues of political theory, race and racism, ethics, law and society, critical theory, cultural studies and, increasingly, digital humanities. Together with Cathy Davidson of Duke University, he founded the Humanities, Arts, Science and Technology Advanced Collaboratory (HASTAC) to promote partnerships between the human sciences, arts, social sciences and technology and supercomputing interests for advancing research, teaching and public outreach. Currently, with Mimi Ito he is leading the building of the MacArthur-UCHRI Research Hub in Digital Media and Learning at UC Irvine, an on-site and virtual research facility designed to promote field-building in the area.
He and Davidson published The Future of Learning Institutions in a Digital Age, a summary report of the book The Future of Thinking: Learning Institutions in a Digital Age (MIT Press, 2009). He has authored numerous books, including The Threat of Race (2008); The Racial State (2002); Racial Subjects: Writing on Race in America (1997); Racist Culture: Philosophy and the Politics of Meaning (1993); and Ethical Theory and Social Issues: Historical Texts and Contemporary Readings (1989/1995). He has also edited or co-edited many volumes, including A Companion to Gender Studies (2005); A Companion to Racial and Ethnic Studies (2002); Between Law and Culture: Relocating Legal Studies (2002); Relocating Postcolonialism (2002); Race Critical Theories: Text and Context (2001); Multiculturalism: A Critical Reader (1994); Jewish Identity (1993); and Anatomy of Racism (1990).
Earlier in his career, David Theo Goldberg produced independent films and music videos (some of which aired on MTV), and co-directed the award-winning short film on South Africa, The Island.
Vectors Journal
"Blue Velvet: Re-dressing New Orleans in Katrina's Wake" by UCHRI Director David Theo Goldberg and UCHRI Graduate Student Researcher Stefka Hristova. Featured in Vectors. Vectors is intent on keeping New Orleans and its ongoing struggles in scholarly view and on exploring the possibilities for multimodal expression to capture the complex histories interlaced in what our government would have us believe was simply an act of nature. "Blue Velvet: Re-dressing New Orleans in Katrina's Wake" represents Vectors' most sophisticated exploration of this terrain. Combining sound, text, photography, video, and several maps, the piece sculpts an evocative and poignant landscape that nonetheless refuses all registers of nostalgia, insisting as it does that we locate Katrina and the Crescent City among multiple trajectories of policy, memory, and representation. Website
Against the Grain
January 17, 2007UCHRI Director David Theo Goldberg talks about the privatization of racism on KPFA radio's "Against the Grain." Audio File

On the State of Race Theory: A Conversation with David Theo Goldberg
2006

This issue of JAC features UCHRI Director David Theo Goldberg's work on critical race theory. Goldberg is also interviewed in the article. PDF Article
David Theo Goldberg was one of the instructors for the Amsterdam Summer Institute: "Black Europe: Exploring Dimensions of Citizenship, Race and Ethnic Relations," June 14-26, 2008 at the University of Amsterdam.
David Theo Goldberg in the free online encyclopedia www.wikipedia.org.