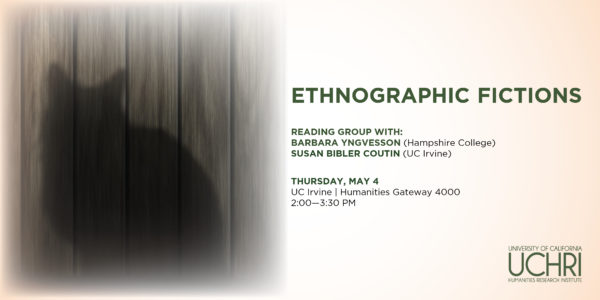 UCHRI scholars Susan Coutin (UC Irvine) and Barbara Yngvesson (Hampshire College) will lead a discussion of two excerpts from their book project, Ethnographic Fictions.  To RSVP and receive a copy of the readings, please email Susan Coutin at scoutin@uci.edu.  A short description of the book project appears below.
Ethnographic Fictions
In this book, we explore the notion of ethnographic fiction by drawing on our own research regarding two processes that simultaneously challenge and confirm conventional understandings of familial and national belonging: transnational adoption and unauthorized immigration. Each speaks to the pervasive dislocations that characterize the contemporary era, the key role of movement rather than stability in everyday life, and the spatializations of personhood that dislocation implies. For the unauthorized and the adopted, "belonging," a key trope linking presence to place, is disrupted; "home" is never a secure location; and personhood is defined by the "as ifs" that inevitably haunt it: the child who might have been me, the country that could have been mine, the person I might have become. In this sense, both adoption and unauthorized movement call for ethnographic approaches that are attentive to the fictional quality of everyday life, the fraudulence of a "real' that is always threatened by a canceled past, and the key role of evidentiary records in distinguishing licit from illicit realities. Exploring such fictions, threats, and forms of evidence will make it possible for us to interrogate the practices that underlie not only legal but ethnographic truth claims. Our analysis derives from a fifteen-year collaboration in which we have examined the common assumptions underlying these seemingly disparate phenomena.