Living Through Upheaval: Elemental Matter
Dec 10, 2020 / 5:00 pm
UC Irvine
---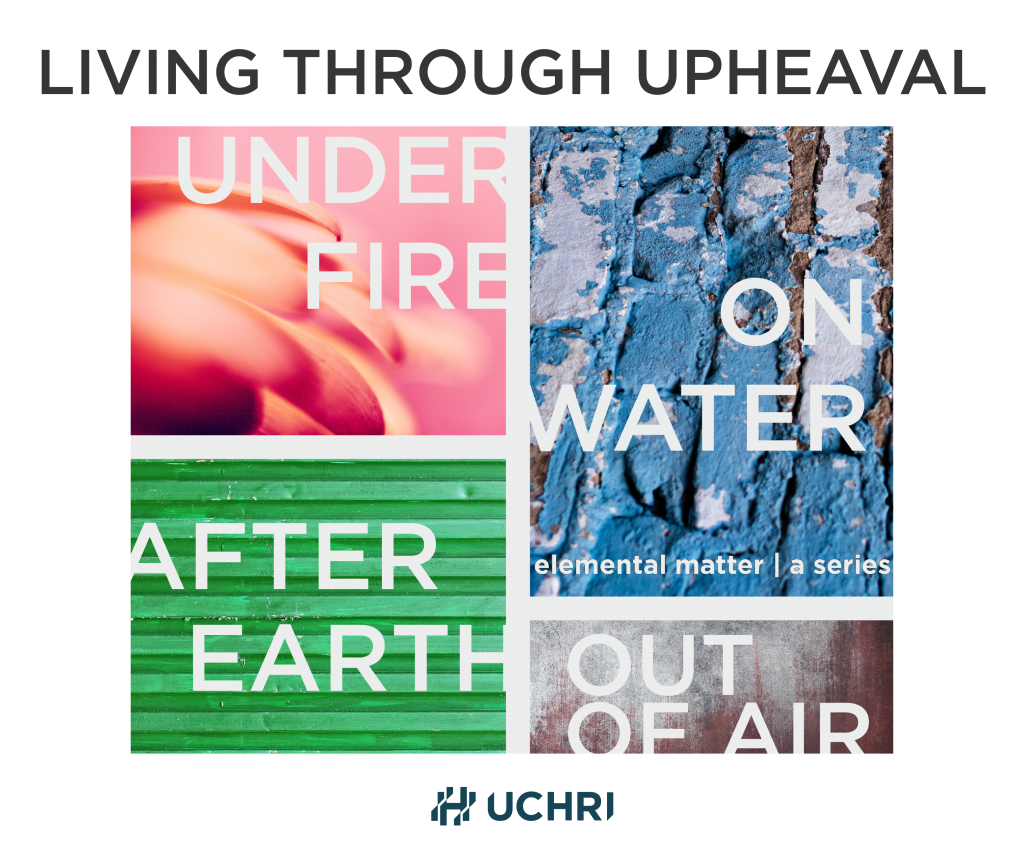 Under Fire. On Water. After Earth. Out of Air. UCHRI hosts a series of online conversations to weigh the impact of our world's transformations, as refracted through the lens of the four classical elements. UCHRI's Living Through Upheaval series, like our Summer 2020 Race at Boiling Point series, brings into conversation scholars, activists, and artists from across the US and beyond to explore the political, ecological, and social change dynamics of living through upheaval.
Fall 2020: Under Fire
On Thursday, December 10th at 5:00 PM PST, UCHRI's Living Through Upheaval: Under Fire explored the power and perils of fire. Standing apart from water, earth, and air, fire was discussed as a centerpiece of human developments, dynamics, and transformations, of narration across most all modes and forms of cultural expression, and as a catalyst for developments in food and shelter, not to mention sometimes unwelcome, if significant shifts in our contemporary culture. Joined by: Elizabeth Hoover (UC Berkeley), Abrahm Lustgarten (ProPublica), Elizabeth Povinelli (Columbia), Brandi Summers (UC Berkeley), and Karen Tei Yamashita (UC Santa Cruz).
In the background:
Gaston Bachelard, The Psychoanalysis of Fire
James Baldwin, The Fire Next Time
Elizabeth Hoover, "'Fires were lit inside them': The Pyropolitics of Water Protector Camps at Standing Rock"; The River Is in Us: Fighting Toxics in a Mohawk Community 
The Karrabing Film Collective, "We burn grass when it's properly dry – but what are we gonna do when the whole world fried?"; "Growing up Karrabing"
Frank Kanawha Lake, "Fire as Medicine: Fire Dependent Cultures and Re-Empowering American Indian Tribes"
Abrahm Lustgarten, "The Great Climate Migration"; "How Climate Migration Will Reshape America" 
Michael Marder, Pyropolitics: When the World is Ablaze
Elizabeth Povinelli, "Fires, Fogs, Winds"; Geontologies: A Requiem to Late Liberalism
Stephen Pyne, "How Fire Shapes Everything" 
Brandi Summers, Black in Place: The Spatial Aesthetics of Race in a Post-Chocolate City
Karen Tei Yamashita, Tropic of Orange 
Yosuke Yamashita, "Burning Piano"
Winter 2021: On Water
Spring 2021: After Earth
Early Summer 2021: Out of Air