Refuge in Words | Refugees, Refuge & Human Displacement
Mar 1, 2023 / 4:00–5:00 pm
Zoom Webinar
---
This UC Book Talk is part of UCHRI's 2022-23 initiative, Refuge and Its Refusals, which considers refuge and its discontents in the self-understanding of the humanities alongside the contributions of refugee scholars and refugee scholarship to the history and futures of the humanities.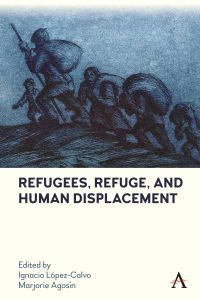 Refugees, Refuge and Human Displacement with Ignacio López-Calvo (UC Merced), Marjorie Agosín (Wellesley College), and Anne Ashbaugh (Towson University)
Join us for a Zoom conversation with editors Ignacio López-Calvo and Marjorie Agosin and contributor Anne Ashbaugh about their new volume on refugees and refuge in the humanities. This volume studies the concept of refuge as well as historical forced displacement and statelessness, trying to provide potential lasting solutions to the many problems associated with this situation. The book is both timely and expansive, moving from the pressing crisis of refugees to the crisis of humanity that seeks to find refuge.
Ignacio López-Calvo is UC Merced Presidential Endowed Chair in the humanities, professor of Latin American literature, and director of the Center for the Humanities. He is the author of eight monographs.
Marjorie Agosin is a poet and human rights activist with a long career dedicated to the themes of social justice.
Anne Ashbaugh is professor and chair of Philosophy at Towson State University. Her areas include ancient Greek philosophy, Nietzsche, and the philosophy of literature.