Refuge in Words | Anita Casavantes Bradford on Child Migration
Jan 18, 2023 / 4:00–5:00 pm
Zoom Webinar
---
This UC Book Talk is part of UCHRI's 2022-23 initiative, Refuge and Its Refusals, which considers refuge and its discontents in the self-understanding of the humanities alongside the contributions of refugee scholars and refugee scholarship to the history and futures of the humanities.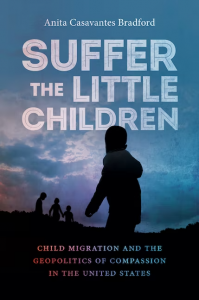 Suffer the Little Children: Child Migration and the Geopolitics of Compassion in the United States, Anita Casavantes Bradford (UC Irvine) and Héctor Tobar (UC Irvine).
In this Zoom conversation, Héctor Tobar talks with Anita Casvantes Bradford about her new book.
In Suffer the Little Children (UNC Press, 2022), Anita Casavantes Bradford traces the evolution of American policy toward unaccompanied children, starting with the European children who fled the perils of World War II and ending with the Central American children who arrive every day at the U.S. southern border. Even after the creation of the Unaccompanied Refugee Minors program in 1980, the federal government has failed to see migrant children as individual rights-bearing subjects. The claims of these children, especially those who are poor, nonwhite, and non-Christian, continue to be evaluated not in terms of their unique circumstances but rather in terms of broader implications for migratory flows from their homelands. This book urgently demonstrates that U.S. policy must evolve in order to ameliorate the desperate needs of unaccompanied children.
Anita Casavantes Bradford is associate professor of Chicano/Latino studies and history at UC Irvine. She is also the author of The Revolution Is for the Children: The Politics of Childhood in Havana and Miami, 1959-1962 (2014). Dr. Casavantes Bradford is a former University of California Presidents' Postdoctoral Fellow, and her work was awarded the 2011 UC-Cuba Marta Abreu Dissertation Prize. 
Dr. Héctor Tobar is professor of Chicano/Latino Studies and English at UC Irvine. He has taught writing at Pomona College and the University of Oregon. He is the author of The Barbarian Nurseries, The Last Great Road Bum, Translation Nation: Defining a New American Identity in the Spanish-Speaking United States, and the novel The Tattooed Soldier.