Refuge in Words | UC Authors Talk About Refuge
by Anita Casavantes Bradford Héctor Tobar Yến Lê Espiritu Lan Duong Ma Vang Victor Bascara Khatharya Um Lila Sharif Nigel Hatton Ignacio López-Calvo Marjorie Agosin Anne Ashbaugh
---
Refuge in Words is a series of conversations with UC authors who have published books on refuge this year. As part of UCHRI's 2022-23 initiative, Refuge and Its Refusals, Refuge in Words considers refuge and its discontents in the self-understanding of the humanities and the formative place of refugee scholarship in the history and futures of the humanities. 
Refuge in Words | Anita Casavantes Bradford on Child Migration, with Héctor Tobar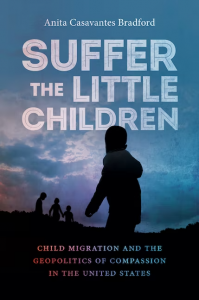 Jan 18, 2022 / 4:00–5:00 pm 
Suffer the Little Children: Child Migration and the Geopolitics of Compassion in the United States, Anita Casavantes Bradford (UC Irvine) in conversation with Héctor Tobar (UC Irvine).
In this Zoom conversation, Héctor Tobar talks with Anita Casvantes Bradford about her new book. In Suffer the Little Children (UNC Press, 2022), Anita Casavantes Bradford traces the evolution of American policy toward unaccompanied children, starting with the European children who fled the perils of World War II and ending with the Central American children who arrive every day at the U.S. southern border. Even after the creation of the Unaccompanied Refugee Minors program in 1980, the federal government has failed to see migrant children as individual rights-bearing subjects. The claims of these children, especially those who are poor, nonwhite, and non-Christian, continue to be evaluated not in terms of their unique circumstances but rather in terms of broader implications for migratory flows from their homelands. This book urgently demonstrates that U.S. policy must evolve in order to ameliorate the desperate needs of unaccompanied children.
Refuge in Words | Departures: An Introduction to Critical Refugee Studies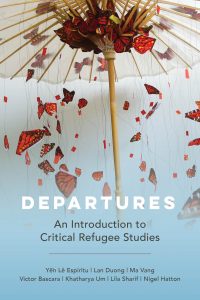 Feb 1, 2023 / 4:00-5:00 PM
Departures: An Introduction to Critical Refugee Studies, with Yen Le Espiritu (UC San Diego), Lan Duong (University of Southern California), Ma Vang (UC Merced), Victor Bascara (UC Los Angeles), Khatharya Um (UC Berkeley), Lila Sharif (Arizona State University), and Nigel Hatton (UC Merced)
In this conversation, the coauthors from the Critical Refugee Studies Collective talk about their new co-authored book, Departures (UC Press, 2022), which advances the field of critical refugee studies.
The book outlines the field's main tenets, questions, and concerns and offers new approaches that integrate theoretical rigor and policy considerations with refugees' rich and complicated lived worlds. It also provides examples of how to connect communities, movements, networks, artists, and academic institutions and forge new and humane reciprocal paradigms, dialogues, visuals, and technologies that replace and reverse the dehumanization of refugees. This resource and guide is for all readers invested in addressing the concerns, perspectives, knowledge production, and global imaginings of refugees.
The Critical Refugee Studies Collective is a group of interdisciplinary scholars who advocate for and envision a world where refugee rights are human rights. Committed to community-engaged scholarship, the Collective charts and builds the field of Critical Refugee Studies by centering refugee lives—and the creative and critical potentiality that such lives offer. Collective members not only study refugees, but many are also refugees themselves with long and deep ties to refugee communities in California and beyond.
Refuge in Words | Refugees, Refuge & Human Displacement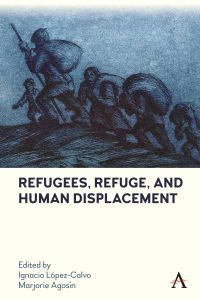 Mar 1, 2023 / 4:00–5:00 pm 
Zoom Webinar
Refugees, Refuge and Human Displacement with Ignacio López-Calvo (UC Merced), Marjorie Agosín (Wellesley College), and Anne Ashbaugh (Towson University)
Join us for a Zoom conversation with editors Ignacio López-Calvo and Marjorie Agosin and contributor Anne Ashbaug about their new volume on refugees and refuge in the humanities. This volume studies the concept of refuge as well as historical forced displacement and statelessness, trying to provide potential lasting solutions to the many problems associated with this situation. The book is both timely and expansive, moving from the pressing crisis of refugees to the crisis of humanity that seeks to find refuge.
---